Le Méridien Nice has undergone a real metamorphosis into a stylish and contemporary hotel, after important renovation, wishing to anticipate its guests' expectations, emphasizing on elegance and originality. These menus are the reflection of the new image of Le Méridien Nice.
Discover the complete menu by clicking here.
La Carte
Business Lunch
Kid's menu
Sparkling cocktails
La Carte
Starters
Multi coloured beetroots patchwork and hinterland Tomme cheese from Parmentier - 17
Terrine of duck "foie gras" from the Landes - 24
exotic fruit chutney
Caesar salad - 24
with chicken breast marinated in honey and rosemary, toasted focaccia with garlic butter
Pineapple cannelloni - 24
filled with shredded crab meat and Asian vegetables seasoned with Timut pepper
SPECIAL OYSTER N°3 served by 4 / 8 / 12 - 25
Special oyster n°3 from "chez Pattedoie", shallot dressing with a dash of vodka, rye bread
Hot Starters
Pumpkin creamy soup - 18
served with crisply pig's trotter with hazelnut
Ravioli - 23
filled with seasonal mushrooms, truffle emulsion
Duck pie - 25
with foie gras and truffle, Perigourdine sauce
Pasta
Gluten free penne - 19
tomato sauce with olives
FISHES
Cod fish - 30
poached in olive oil, simmered vegetables and green lentils from Le Puy cooked in curcuma
Sea bass from Corsica - 33
steamed with coco and citronella, wok of Asian vegetables, tandoori sauce
John Dory fish - 39
pan-fried in yuzu butter, parsnips caramelized with lemon tree honey
Scallops PAN-FRIED - 39
in foamy butter, creamy risotto with diced Dublin Bay prawn
MEAT AND POULTRY
CLASSIC BEEF BURGER (180 G.) - 24
Salad, tomato, onion, homemade French Fries
Duckling from Dombes - 35
filleted breast , cabbage filled with the braised leg cooked in red wine, duck burger with mushrooms, pan-fried foie gras, buttered mashed potatoes
Braised lamb shoulder - 33
Cassoulet style Paimpol bens
The Black Angus Cheeseburger (220 g.) - 32
Cheddar ripened in Guinness served with homemade French fries, ranch sauce
Beef fillet - 42
Gratin style macaroni with simmered beef cheek and shiitake topped over with cheese, Bordelaise sauce
Grilled Ribsteak from Aubrac (350 g.) - 44
Mashed potatoes with Cantal cheese, Poivrade sauce
Cheese and Desserts
Selection of ripened cheeses - 14
From Bordier and Dominique Fabre, black cherry jam
Lemon tart - 10
Crispy meringue with kombawa peel, sudachi jelly
Trio of eclair by Eric Brujan - 11
(Irish coffee, french vanilla seeds, sparkling chocolate)
Tatin style apple tart - 12
Salted butter caramel, vanilla ice cream
Praline crunchy cake - 13
Hazelnut dacquoise and Jivara chocolate mousse, dark chocolate ice cream
Crunchy shell of dark chocolate - 14
William pear roasted in lemon tree honey
Exotic fruits salad - 14
With goji berries, caramelized fraisinette, mango sorbet
All our dishes are homemade and prepared on site from primary products. Our meats are from France, Ireland, Argentine, Germany, Spain, Holland. Do not hesitate to contact our head waiter to bring to our attention all possible risks of food allergies.
Business Lunch
Business Lunch
Daily special + daily dessert including coffee - 31€
Daily starter + daily special including coffee - 36€
No discounts may be applied to these menus
Do not hesitate to contact our head waiter to bring to our attention all possible risks of food allergies.
Kid's menu
Discover Chef's kid menu (under 10 years old). €16 per child
Dishes
Breast of chicken, basmati rice
York Ham with penne pasta
Fillet fish of the day, mashed potatoes
Dessert
2 scoops of ice cream
Vanilla, chocolate or strawberry
Net prices, tax and service included
Sparkling cocktails
Enjoy effervescent Sparkling cocktails inspired by the flavors of the Riviera & our innovative music partnership with Nouvelle Vague.
By the glass
CRÉMANT D'ALSACE BLANC OU ROSÉ
€13 - France
FREIXENET GRAN CORDON NEGRO
€13 - Spain
75CL - CRÉMANT D'ALSACE BLANC OU ROSÉ
€45 - France
75 CL - PROSECCO
€45 - Italia
75CL - FREIXENET GRAN CORDON NEGRO
€45 - Spain
VIRGIN SPARKLING COCKTAILS 17CL
CARDA PEAR FIZZY
€12 - Pear juice, cardamom syrup, ginger ale
BLOODY FIZZY
€12 - Bitter lemon, raspberry purée, orgeat syrup
ALCOHOLIC SPARKLING COCKTAILS
NASTASIA
€14 - Crémant d'Alsace, vodka, Cherry Heering, ginger syrup, cranberry juice
JASMINE ROYAL
€14 - Bitter lemon, raspberry purée, orgeat syrup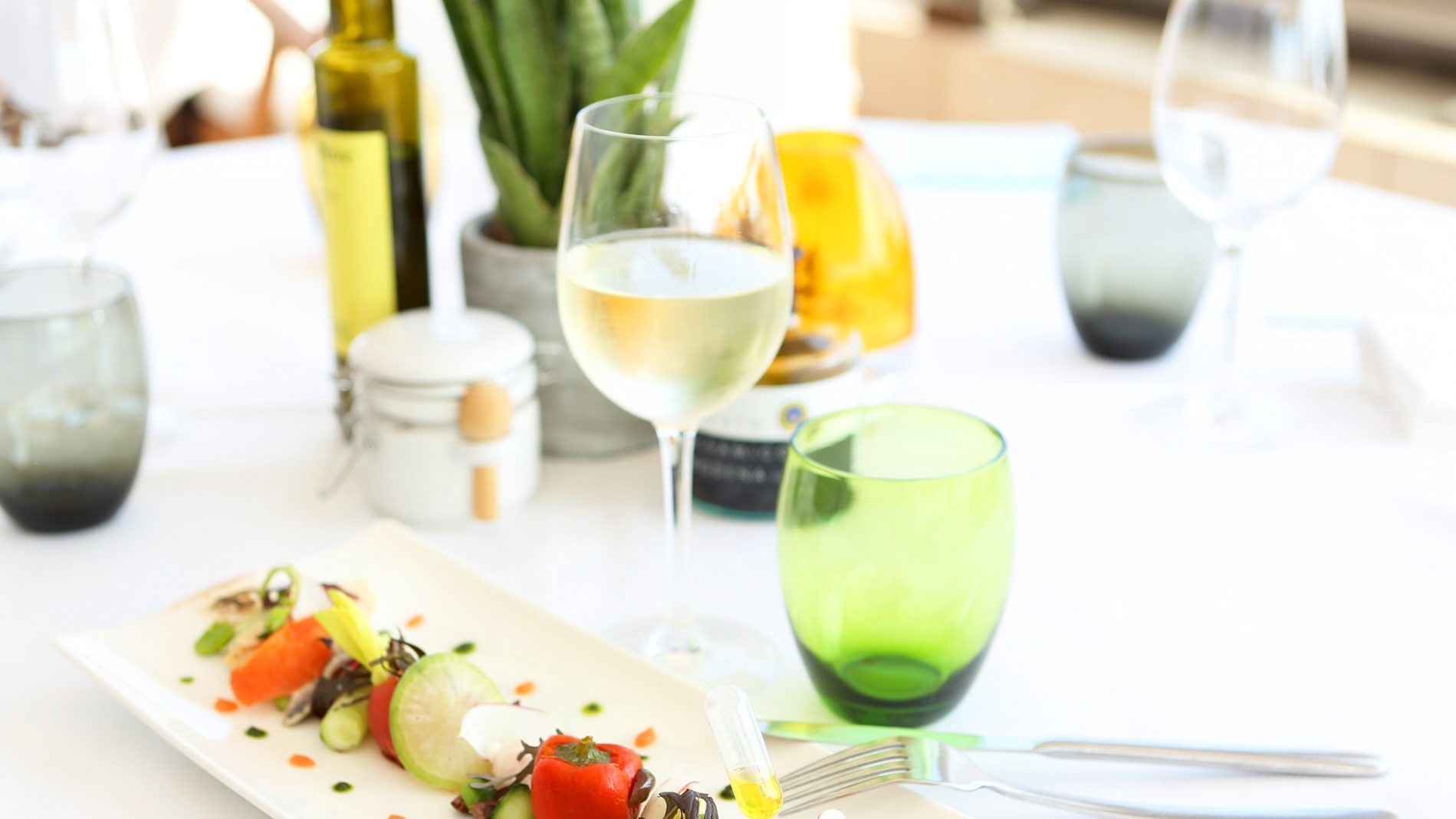 Lounge

10 am to 20.00 pm

Lunch

12 pm to 3.30 pm