Le Méridien Nice has undergone a real metamorphosis into a stylish and contemporary hotel, after important renovation, wishing to anticipate its guests' expectations, emphasizing on elegance and originality. These menus are the reflection of the new image of Le Méridien Nice.
La Carte
Business Lunch
Kid's menu
Mineral water & hot beverages
Sparkling cocktails
Wines
Champagne bubbles
La Carte
Starters
FRESH MIXED SALAD - 18
Fresh mixed salad with spinach leaves, asparagus tips and artichokes, blue cheese sauce
SHREDDED CRAB MEAT - 23
Shredded crab meat with exotic fruits and thai basil, kaffir oil
SEARED DUCK FOIE GRAS - 24
Seared duck foie gras from Chalosse, apple pear chutney cooked in cider vinegar and served with a quince jelly
CAESAR SALAD - 24
Caesar salad with organic chicken cooked with honey and rosemary, toasted focaccia
LOCAL SCALLOPS CARPACCIO - 25
Local scallops carpaccio pickled in citrus fruit
ORGANIC SMOKED SALMON - 29
Organic smoked salmon served with Countess de Ségur blinis, dill and pink peppercorn cream
OYSTER - 4
Special oyster n°3 from « Chez Pattedoie », shallots' dressing with a dash of vodka, rye bread
Hot Starters
POACHED EGG - 20
Poached egg on a bed of forest mushrooms with fried hazelnut and sage, truffle emulsion
CRISTAL BAY PRAWN BALLS - 27
Cristal Bay prawn balls steamed with lemon tree leaves served in Asian style broth
PASTA AND FISH
PENNE IN TOMATO SAUCE - 19
Penne in tomato sauce with olives and anchovies
FRIED NOODLES - 26
Fried noodles with organic chicken from the Vendée with coriander and fried lotuses
SCOTTISH SALMON TOURNEDOS - 28
Scottish salmon tournedos grilled in a sesame seeds crust with Asian mushroom quinoa risotto, miso broth with lime
SEA BASS - 29
Sea bass steamed with coco and citronella, wok of Asian vegetables, tandoori sauce
WHITE STERLING HALIBUT - 31
Piece of white Sterling halibut in a foamy butter, potato gnocchi and caramelized vegetables, sunchoke emulsion
« CLASSIC » BEEF BURGER - 24
« Classic » beef burger (180 g.) (tomato, salad, onions), french fries
ORGANIC GUINEA FOWL - 29
Organic Guinea fowl cooked in 2 ways, leg braised in red wine and filleted breast A pot of green lentils from Le Puy and cauliflower in its juice
SOUTH WEST PORK CHOP - 31
South West pork chop studded with chorizo , ratte potato espuma, simmered seasonal vegetables, sauce diable
LAMB LEG CURRY MADRAS - 33
Lamb leg curry madras served with spices rice, naan bread, mango chutney, lemon pickles with turmeric
BEEF JUST AS YOU LIKE IT…
ORGANIC IRISH CHEESEBURGER - 29
Organic Irish cheeseburger, fine cheddar, served with homemade french fries, ranch sauce
BRAISED OX CHEEK - 30
Braised ox cheek stuffed with mushrooms and duck foie gras, sweet potato fried polenta and celery mousseline
GRILLED ORGANIC IRISH BLACK ANGUS BEEF RIBSTEAK - 43
Grilled organic Irish Black Angus beef ribsteak (400 g.), potatoes with herbs, Bearnaise sauce
Cheese and Desserts
Award-Winning Artisan Cheeses - 14
Selection of ripened cheeses from Quatrehomme
Eclairs by Eric Brujan - 12
Trio of éclairs by Eric Brujan (raspberry, chocolate, Bourbon vanilla)
CRUNCHY CAKE - 12
Praline crunchy cake and Jivara chocolate mousse, tangerine sorbet
POACHED PEAR - 12
Poached pear in spicy red wine, spicy hot wine flavoured granité
MONT-BLANC IN ITS NEW TWIST - 12
Mont-Blanc in its new twist , candied chestnut icecream
BLACK FOREST CREAM CAKE - 12
Black Forest cream cake with Fougerole cherries, morello amarena icecream
EXOTIC FRUIT SALAD - 12
Exotic fruits salad with goji berries, caramelized fraisinette, mango sorbet
All our dishes are homemade and prepared on site from primary products. Our meats are from France, Ireland, Argentine, Germany, Spain, Holland. Do not hesitate to contact our head waiter to bring to our attention all possible risks of food allergies.
Business Lunch
Business Lunch 29€
From Monday to Friday: 1 Starter-Main course or Main course-Dessert + ½ bottle of water - coffee
No discounts may be applied to these menus
Do not hesitate to contact our head waiter to bring to our attention all possible risks of food allergies.
Kid's menu
Discover Chef's kid menu (under 10 years old). €16 per child
Dishes
Breast of chicken, basmati rice
York Ham with penne pasta
Fillet fish of the day, mashed potatoes
Dessert
2 scoops of ice cream
Vanilla, chocolate or strawberry
Net prices, tax and service included
Mineral water & hot beverages
Mineral water
VITTEL, SAN PELLEGRINO
50cl €4.30
VITTEL, SAN PELLEGRINO
100cl €8.60
Hot Beverages
Coffee, coffee decaffeinated
€3.50
Sparkling cocktails
Enjoy effervescent Sparkling cocktails inspired by the flavors of the Riviera & our innovative music partnership with Nouvelle Vague.
By the glass
CRÉMANT D'ALSACE BLANC OU ROSÉ
€12 - France
FREIXENET GRAN CORDON NEGRO
€12 - Spain
75CL - CRÉMANT D'ALSACE BLANC OU ROSÉ
€42 - France
75 CL - PROSECCO
€42 - Italia
75CL - FREIXENET GRAN CORDON NEGRO
€42 - Spain
VIRGIN SPARKLING COCKTAILS 17CL
CARDA PEAR FIZZY
€12 - Pear juice, cardamom syrup, ginger ale
BLOODY FIZZY
€12 - Bitter lemon, raspberry purée, orgeat syrup
ALCOHOLIC SPARKLING COCKTAILS
NASTASIA
€14 - Crémant d'Alsace, vodka, Cherry Heering, ginger syrup, cranberry juice
JASMINE ROYAL
€14 - Bitter lemon, raspberry purée, orgeat syrup
Wines
Exclusive rosé wines selection
LOVE R DE ROSELINE - Côtes de Provence
50cl €21 - 75cl €29 - Des cépages traditionnels pour une finesse et typicité des vins de Provence
CHÂTEAU ROUBINE LA VIE EN ROSE - Côtes de Provence
75cl €29 - D'une robe rose clair au reflet gris, notes florales de roses et de bonbons anglais
BY OTT - Côtes de Provence
50cl €26 - 75cl €35 - Vif et fruité, rond en bouche, notes de pêche, lilas et agrumes
COMMANDERIE DE PEYRASSOL - Côtes de Provence
75cl €35 - Aromes concentrés d'agrumes, pêches et abricots, fines notes florales
CHÂTEAU DE LA TOUR DE L'EVÊQUE - Côtes de Provence Bio - Cuvée Pétale de Rose
75cl €38 - Issu de vendanges manuelles, accompagnera votre apéritif, poissons et cuisine asiatique
CHÂTEAU DE BERNE - Côtes de Provence
75cl €36 - Couleur légèrement saumonée, arômes intenses de fruits jaunes et zestes d'agrumes
CHÂTEAU MARGÜI BIO - Coteaux Varois en Provence
75cl €41 - Couleur au reflet abricot, enrichit de notes de fruits mûrs voire secs
CHÂTEAU MIRAVAL - Côtes de Provence
75cl €44 - Rosé pâle, fraîcheur minérale, arômes d'agrumes, fruits rouges et fleurs blanches
CHÂTEAU LÉOUBE LALONDE – SECRET DE LÉOUBE - Côtes de Provence Bio
75cl €45 - La touche de cabernet sauvignon ajoute de la puissance à la finesse soyeuse de ce vin bio équilibré
CHÂTEAU SAINTE MARGUERITE - Côtes de Provence - Cuvée Symphonie
75cl €47 - Finesse, élégance et plaisir aromatique font de ce vin un rosé d'une grande gastronomie
CHÂTEAU MINUTY - Côtes de Provence - Cuvée Or
75cl €50 - Très fruité aux parfums de pêche et fruits exotiques, bonne longueur en bouche
CHÂTEAU D'ESCLANS ROCK ANGEL - Côtes de Provence
75cl €50 - Magnifique couleur rose pâle aux reflets dorés, arôme de fruits rouges acidulés
CHÂTEAU DE PIBARNON - Bandol
75cl €52 - Caractère explosif ce vin offre un bouquet de fruits rouges, agrumes et épices
DOMAINE OTT CHÂTEAU DE SELLE - Côtes de Provence
75cl €54 - Allie à merveille des arômes de pêche, citron, cannelle et vanille
DOMAINE SAINT JEAN - Bellet AOC
75cl €62 - Vin de Nice cristallin et lumineux aux notes de fruits rouges
White - Provence
LOVE R DE ROSELINE - Côtes de Provence
50cl €21 - 75cl €29
CHÂTEAU SAINTE MARGUERITE - Côtes de Provence - Cuvée Château
50cl €25 - 75cl €34
COMMANDERIE DE PEYRASSOL - Côtes de Provence
75cl €34
BY OTT - Côtes de Provence
75cl €36
White - Loire
DOMAINE GUENAULT - Touraine - 100% Sauvignon
75cl €29
SANCERRE DOMAINE MILLET - 100% Sauvignon
75cl €45
Blanc - Bourgogne
MANOIR DU CAPUCIN - AOC Macon Solutré-Pouilly - 100% Chardonnay
75cl €27
MANOIR DU CAPUCIN - AOC Pouilly Fuisse - 100% Chardonnay
75cl €41
CHABLIS WILLIAM FÈVRE - 100% Chardonnay
75cl €43
White - IGP Côtes de Gascogne
DOMAINE ALAIN BRUMONT - 100% Petit Manseng
75cl €27 - Vin moelleux en apéritif ou avec le dessert
Our signature white wines
CÔTES DE PROVENCE - Domaine de Gavaisson - Cuvée Inspiration
75cl €52
CÔTES DE PROVENCE - Domaine OTT - Clos Mireille
75cl €57
LOIRE SANCERRE AOP - 100% Sauvignon - La Moussière de chez Alphonse Mellot Bio
75cl €62
BOURGOGNE - PULIGNY MONTRACHET - 100% Chardonnay - Domaine Decelle – Villa
75cl €132
BOURGOGNE DE LA CÔTE DE BEAUNE - MEURSAULT - 100% Chardonnay - Domaine Boigelot – Caillerets 1er cru
75cl €135
Red - Provence
LOVE R DE ROSELINE - Côtes de Provence
50cl €21 - 75cl €29
CHÂTEAU SAINTE MARGUERITE - Côtes de Provence Cuvée Château
50cl €25 - 75cl €34
COMMANDERIE DE PEYRASSOL - Côtes de Provence
75cl €34
Red - Vallée du Rhone
CROZES-HERMITAGE DELAS FRERES - 100% Syrah
75cl €40
Red - Bourgogne
DOMAINE ALAIN GEOFFROY - AOC Bourgogne – Pinot Noir
75cl €36
BOURGOGNE HAUTES CÔTES DE NUITS - Les Dames Huguettes – Pinot Noir
75cl €47
Red - Loire
DOMAINE GUENAULT - Touraine - 100% Gamay
75cl €26
Red - Bordeaux
CHÂTEAU PETIT BOUQUEY - Saint Emilion – Merlot
75cl €45
CHÂTEAU D'EYRAN - Pessac Léognan – Cabernet Sauvignon – Merlot
75cl €50
Our signature red wines
SAINT JOSEPH AOP - 100% Syrah - Poivre et Sol
75cl €62
MADIRAN AOC - Tannat – Cabernet Franc - Château Montus cuvée prestige
75cl €75
CÔTE ROTIE AOC - 100% Syrah - François Villard le Galet Blanc
75cl €85
PAUILLAC AOC – CHÂTEAU LYNCH BAGES - Cabernet Sauvignon – Merlot - 5e grand cru classé
75cl €270
Wine by the glass
Selection of the month by our somelier: white - red - rose
€10
WHITE - DOMAINE GUENAULT - Touraine 100 % Sauvignon
€12
WHITE - CHABLIS WILLIAM FEVRE - 100% Chardonnay - 14
€14
WHITE - DOMAINE MILLET SANCERRE - 100 % Sauvignon
€16
WHITE - DOMAINE ALAIN BRUMONT - IGP Côtes de Gascogne
€11 - Moelleux
RED - COMMANDERIE DE PEYRASSOL - Côtes de Provence
€12
RED - BOURGOGNE ALAIN GEOFFROY - AOC Bourgogne
€13
RED - CHÂTEAU PETIT BOUQUEY - Saint-Emilion
€13
ROSE - LOVE R DE ROSELINE - Côtes de Provence
€12
ROSE - COMMANDERIE DE PEYRASSOL - Côtes de Provence
€14
Champagne bubbles
By the glass
LOUIS ROEDERER BRUT PREMIER
€19
LAURENT-PERRIER BRUT ROSE
€20
Cuvées Brut - 75cl
BRUNO PAILLARD PREMIERE CUVEE - Sélection Joël Robuchon
€69
LOUIS ROEDERER PREMIER
€79
VEUVE CLICQUOT PONSARDIN - Carte Jaune
€99
LOUIS ROEDERER - Cristal Millésimé
€269
MOËT & CHANDON - Dom Pérignon Millésimé
€289
Cuvées Brut Rosés - 75cl
BRUNO PAILLARD PREMIERE CUVEE - Sélection Joël Robuchon
€89
TAITTINGER CUVÉE PRESTIGE
€99
LAURENT-PERRIER BRUT
€139
LOUIS ROEDERER - Cristal Millésimé
€469
MOËT & CHANDON - Dom Pérignon Millésimé
€499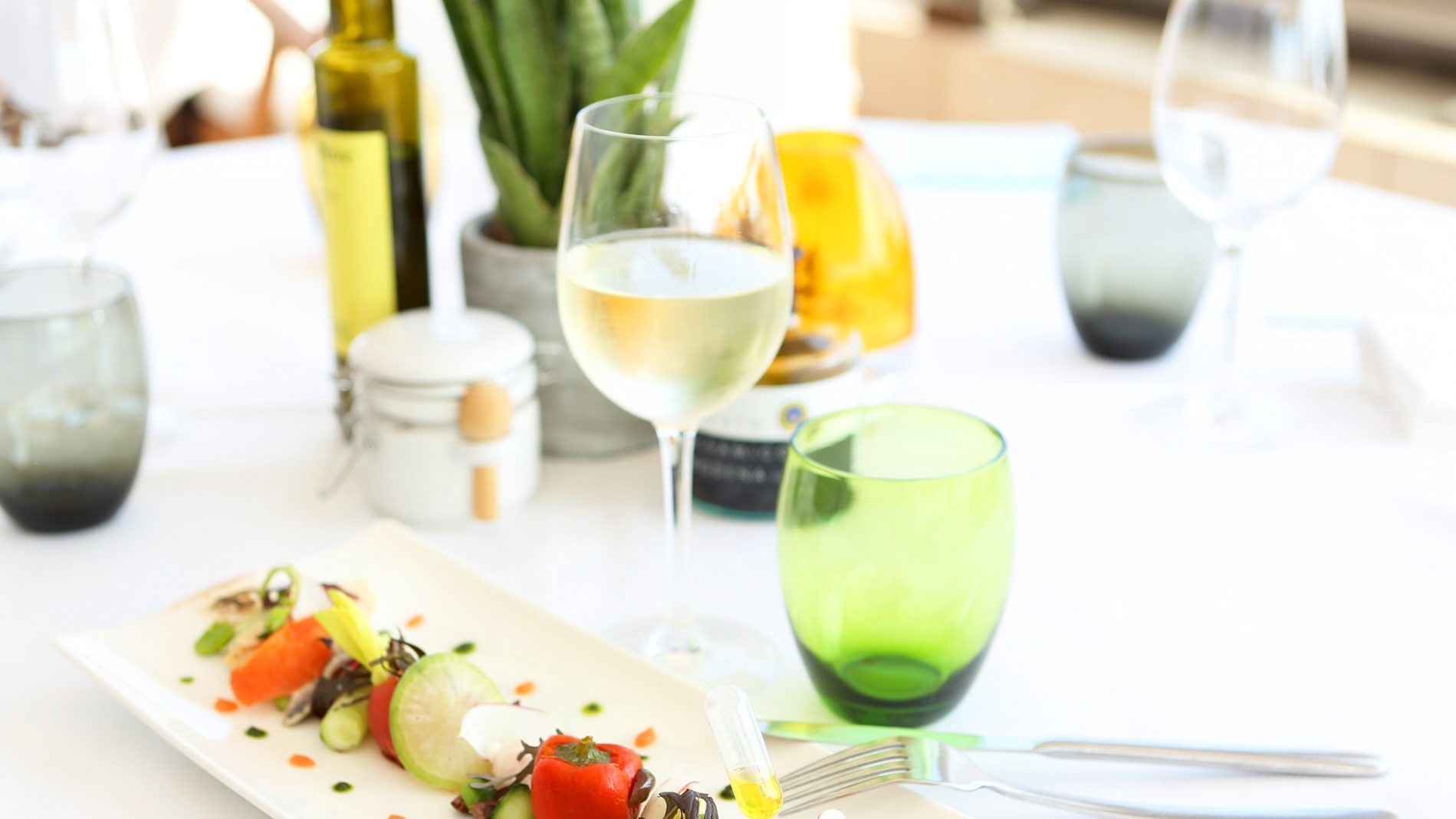 Lounge

10 am to 5 pm

Lunch

12 pm to 4 pm