Discover the complete menu by clicking here.
La Carte
Business Lunch
Kid's menu
Sparkling cocktails
La Carte
Menu
Daily suggestions based upon the market's products, please ask to the Maître d'Hotel
Seasonal taste
Small ravioli filled with two salmons - 18 €
Asian flavoured vegetables
Roast duck breast fillet - 28 €
Rosemary juice, truffled mashed potatoes, caramelized vegetables
Chestnut and blackcurrant tart - 14 €
First taste
Cream of pumpkin soup with Royal-style chestnut - 18 €
Caramelized onions espuma with argan oil Crunchy chestnut pancake
Terrine of duck "foie gras" from the Landes - 23 €
With Port wine and Cambodia "birdy pepper", Nashi jelly, blackcurrant and seasonal fruit chutney
Shredded crabmeat and shiso with ponzu - 24 €
Garden vegetables on a bed of mashed avocado, yusu sauce
Thick slices of white Sterling halibut - 24 €
Marinated with ginger and lemongrass Seasonal vegetables, mango and cockles
Ravioli filled with scampi in its broth - 25 €
Watercress leaves
Norwegian smoked salmon - 29 €
Toasted blinis, whipped cream with pink peppercorns and dill
Oysters served by 4 / 8 / 12 - 12 € / 18 € / 26 €
Special oyster n°3 from "chez Pattedoie", shallot dressing with a dash of vodka, rye bread
Royal Siberian caviar osciètre (30g) - 70 €
With its blinis fine taste and delicate flavour
Bowls
Caesar salad with chicken breast marinated in honey and rosemary - 24 €
Toasted focaccia with garlic butter
Tuna tataki marinated with sesame - 26 €
Soba Japanese pasta salad with green tea, seasonal vegetables with shiso
Italian taste
Penne traditionally made - 20 €
Tomato sauce with spicy Perugine sausage and olives
100% vegetable cuisine
Soba Japanese pasta salad infused with green tea - 19 €
Preserved eggplant
Penne traditionally made, tomato sauce and olives - 19 €
Organic risotto Carnaroli - 33 €
With white grated truffle from Alba
Fishes
Crisply fried whiting, Gribiche sauce - 29 €
Crushed "Ratte" potatoes with herbs
Sea bass from Corsica - 34 €
Steamed with coco and citronella, wok of Asian vegetables, tandoori sauce
Thick Black codfish steak lacquered with Teriyaki sauce - 34 €
Fine chestnut mousse and glazed vegetables
Seared kernel of scallops with seaweed butter - 38 €
Creamy organic risotto Carnaroli, lobster emulsion
Meat
Filleted breast of pheasant roasted and braised leg roll - 29 €
Parsnip tabbouleh with turmeric, caramelized sweet potatoes, red Port wine and pear sauce
New twist of Bresse chicken in "Coq au vin" style - 33 €
Alsatian fried noodle dumplings and bacon
Variation around the veal of Piemont - 36 €
Pan sautéed filet mignon, braised shank and sweetbreads, wild mushrooms risotto with hazelnuts
Pan sautéed fillet of doe - 38 €
Polenta with squash, heritage vegetables, salted beetroot, juniper berry sauce
Beef
The « Classic » beef burger (180 g.) - 24 €
(tomato, salad & onions), homemade French fries
The Black Angus Cheeseburger (220 g.) - 32 €
Reblochon cheese, served with homemade French fries, ranch sauce
Pan sautéed sirloin steak Black Angus (350 g.) - 44 €
In foamy butter, mashed potatoes with butter
Cheese
Selection of ripened cheeses from Bordier and Dominique Fabre - 14 €
black cherry jam
Desserts
Eclairs by Eric Brujan - 11 €
Morello dragée, passion Religieuse pastry, vanilla seeds
Caramelized custard cream with coffee - 12 €
Crumble on a top, milk ice cream, whiskey emulsion
Layered of mango and pear on a spice biscuit - 12 €
Chocolate whipped cream with ginger
Tatin style pineapple tart with coconut - 13 €
Pineapple sorbet
Soft dark chocolate cake with tonka bean - 14 €
Light custard cream with vanilla
Exotic fruits salad with goji berries - 14 €
Caramelized fraisinette, mango sorbet
All our dishes are homemade and prepared on site from primary products. Our meats are from France, Ireland, Argentine, Germany, Spain, Holland. Do not hesitate to contact our head waiter to bring to our attention all possible risks of food allergies.
Business Lunch
Business Lunch
Daily special + daily dessert including coffee - 31€
Daily starter + daily special including coffee - 36€
No discounts may be applied to these menus
Do not hesitate to contact our head waiter to bring to our attention all possible risks of food allergies.
Kid's menu
Discover Chef's kid menu (under 10 years old). €16 per child
Dishes
Breast of chicken, basmati rice
York Ham with penne pasta
Fillet fish of the day, mashed potatoes
Dessert
2 scoops of ice cream
Vanilla, chocolate or strawberry
Net prices, tax and service included
Sparkling cocktails
Enjoy effervescent Sparkling cocktails inspired by the flavors of the Riviera & our innovative music partnership with Nouvelle Vague.
By the glass
CRÉMANT D'ALSACE BLANC OU ROSÉ
€13 - France
FREIXENET GRAN CORDON NEGRO
€13 - Spain
75CL - CRÉMANT D'ALSACE BLANC OU ROSÉ
€45 - France
75 CL - PROSECCO
€45 - Italia
75CL - FREIXENET GRAN CORDON NEGRO
€45 - Spain
VIRGIN SPARKLING COCKTAILS 17CL
CARDA PEAR FIZZY
€12 - Pear juice, cardamom syrup, ginger ale
BLOODY FIZZY
€12 - Bitter lemon, raspberry purée, orgeat syrup
ALCOHOLIC SPARKLING COCKTAILS
NASTASIA
€14 - Crémant d'Alsace, vodka, Cherry Heering, ginger syrup, cranberry juice
JASMINE ROYAL
€14 - Bitter lemon, raspberry purée, orgeat syrup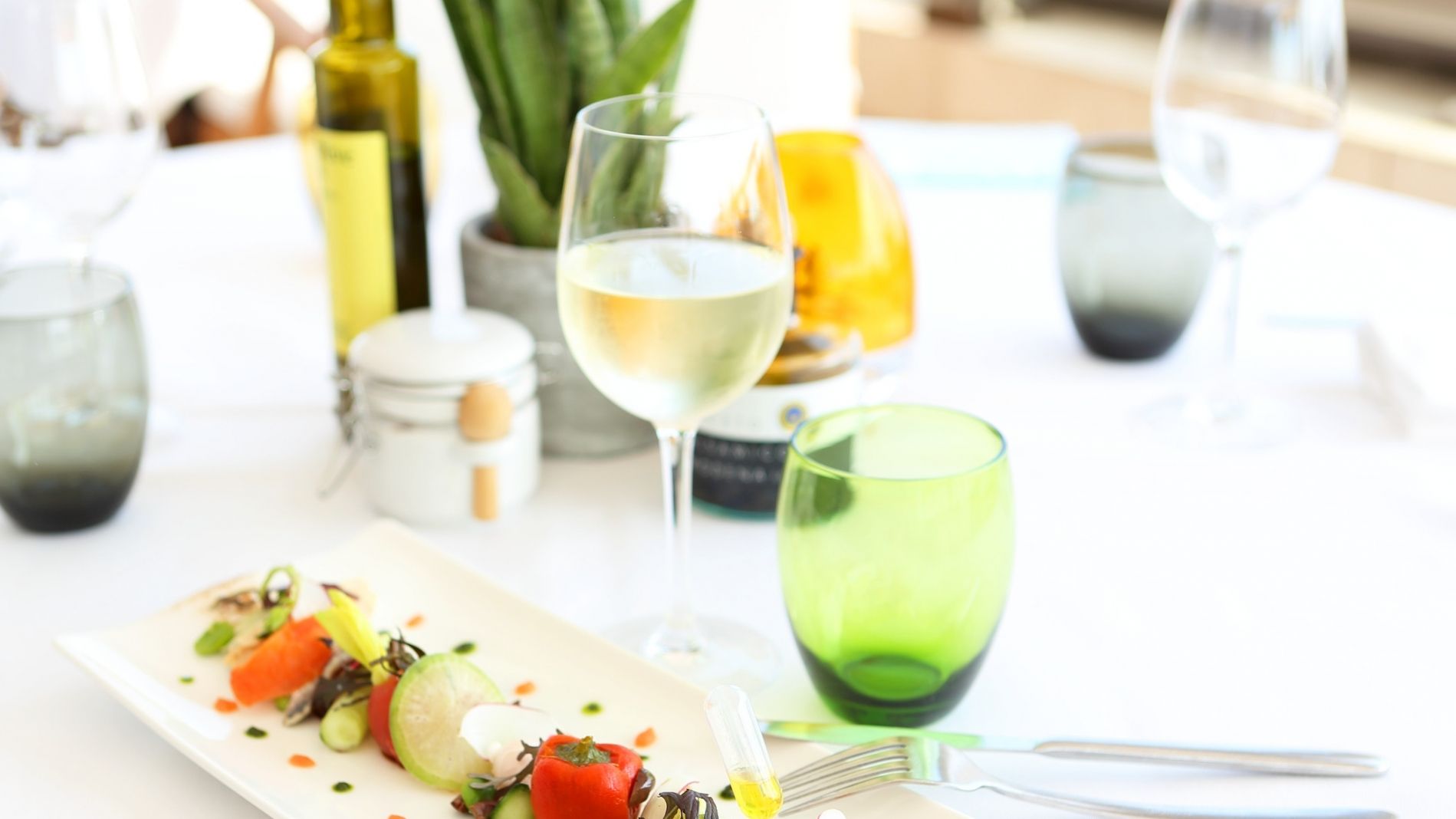 Lunch

12:00 pm - 3:30 pm

Swimming pool

10:00 am - 5:30 pm

Bar

10:00 am to 5:30 pm